Kate
is formerly sidekick of Dr Blowhole and later science partner of Kowalski.
Kate
Character Information
Gender
female
Species
penguin
Born
(where)
south pool
Raised in
Blowhole´s ship
Resides
(lives in)
ZOO
Age
younger than Blowhole
Talent(s)
intelligention

karate choops

Story Information
First
Appearance
evil penguin
Additional
Appearance(s)
Julienster

Its about time 2

Voiced
by
Susanne Blakeslee

early life: She lost her mom when was child. But Blowhole save her ( but only that it was like sidekick ).
personality:
past: sassy, evil, mean, cruel
now: nice, friendly, happy-go-lucky, helpful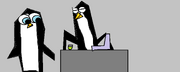 Ad blocker interference detected!
Wikia is a free-to-use site that makes money from advertising. We have a modified experience for viewers using ad blockers

Wikia is not accessible if you've made further modifications. Remove the custom ad blocker rule(s) and the page will load as expected.