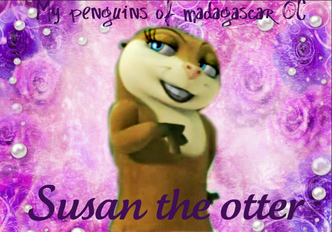 Susan the otter is the twin niece of Marlene, she is not real in the POM episodes, she is just a OC from deviantart.com and POMfan
Susan the otter comes from the California's Monterey Aquarium. (The same place as where Marlene came from.)
She is also born in captivity, but she is normal in the wild.
She don't have a boyfriend but she likes King Julien a little.
AppearanceEdit
~Susan the otter~

Marlene: The Niece of Susan, they are like twins but the eyes of Susan are blue and her fur is a little goldy!

Julien: The Lemur who is maybe the little new boyfriend of Susan, She likes likes him, and maybe he likes likes her 2!
---
Ad blocker interference detected!
Wikia is a free-to-use site that makes money from advertising. We have a modified experience for viewers using ad blockers

Wikia is not accessible if you've made further modifications. Remove the custom ad blocker rule(s) and the page will load as expected.